August is National Golf Month and here at IQ Total Source we want to celebrate the wonderful game. Not only is golf great for entertainment, but it is handy in business as well. We like to think of the course as the office outside of the office.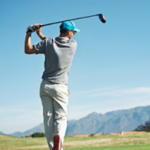 If you missed last month's British Open, you missed one of the most exciting sporting events of the year! It was a near-historic event as Jordan Spieth fell one stroke short of winning and joining Ben Hogan as the only players to win the Masters, U.S. Open and British Open in the same year. Tough break!
There are still plenty of premier golf events in August, including the PGA Championship and World Golf Championships. If you want to host your own golf event, whether for leisure or for business, IQ Total Source has a wide selection of items for your golf needs.
From customizable shirts, visors, umbrellas and towels, IQ Total Source carries an array of products that will keep you looking sharp on the course while promoting your company in the process.  These items are great for a client meeting, a team bonding exercise or just a way to support and celebrate National Golf Month.