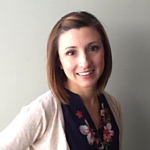 We are pleased to announce that Jen Logan has been promoted to Business Development Executive. Jen works daily with customers, but if you haven't met her yet, here's a little back story on her career at IQ Total Source.
Originally from Connecticut, Jen started working in customer service for IQ in 2013. Jen came to IQ for the culture and that's why she stays here today. "The upper management is great! We put a lot of focus on our customers, but we also have a lot of fun. What company has frisbee golf and a ping pong table?"
Jen gained valuable expertise from her start in the IQ customer service team. "You would never know any one was having a bad day. The team was always happy to talk to customers and go out of their way to help them." says Jen. Due to her hard work and foundation in service, she was promoted to Outside Account Manager in June, 2015.
Knowing the customer base gives Jen an advantage in her new role. She has already developed relationships with a lot of customers over the years. Jen works hard to make sure communications are super prompt and that she exceeds customer expectations.
"I had a customer who ordered a filing cabinet, so I sent her the hanging file folders as well, just in case she needed them. Our whole company is committed to WISE (wildly insane service experience) so by going that extra mile, we hope to make our customers feel valued."
Jen has always been willing to go out of her way to make sure our customers feel valuable and for that, we know just how valuable she is as well!
---