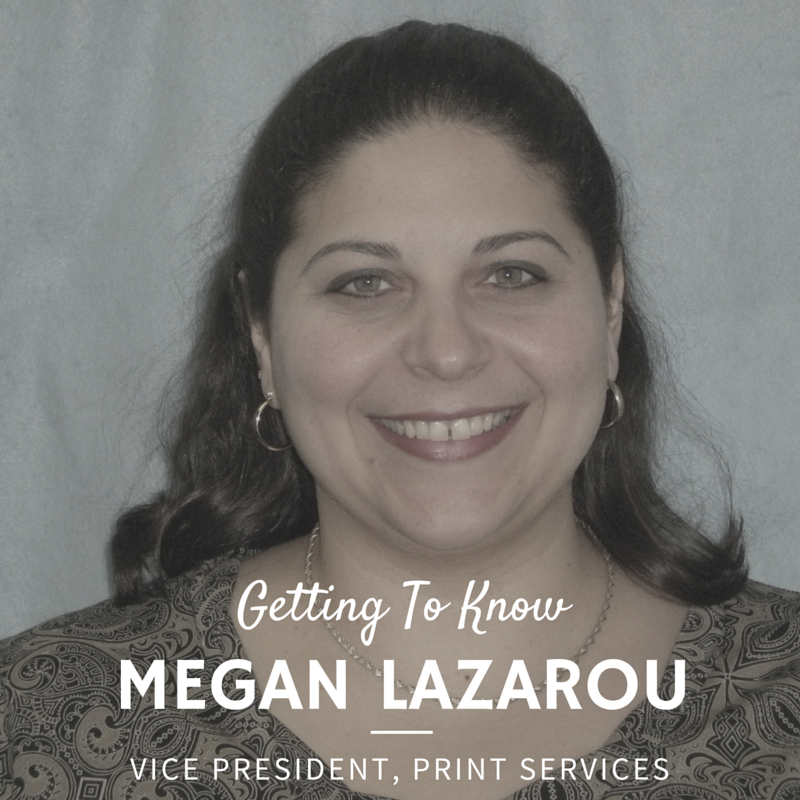 Our new Vice President, Megan Lazarou has been an influential part of our latest expansion. Get to know her a little better and what she does for us at IQ Total Source.
Q: What is your title?
A: Vice President, Print Services
Q: Where are you from?
A: I was raised on a dairy farm in upstate New York, but I have lived in Houston for many years and consider it my home.
Q: Walk us through your career at IQ. What was your first position up to now?
A: I started with IQ in April 2015 as the Director of Print. I was responsible for managing and growing the print program at IQ. I targeted large customers that had a need for outsourced print services and secured their business. I acted as the subject matter expert when speaking with existing supply customers to gain their trust and allowed IQ an opportunity to earn their print business. I developed the operating standards for the print support team to ensure we met and exceeded customer expectations. I developed our partnership network that has allowed IQ to broaden its print offering to customers.
Q: What do you do at IQ Total Source?
A: I am responsible for all aspects of the Print Services division at IQ including the vision and strategy in both markets. I am also responsible for the operational soundness of the division to ensure scalability for rapid growth as well as recruiting, hiring and managing a team of sales professionals to achieve our sales targets.
Q: Tell us about your previous positions and education and how they apply to your customers now.
A: I have been in the print industry for 20 years, starting at a copy shop at the University of Houston. I worked full time while pursuing a BBA in Computer Information Systems. I moved into operations management with the same company while pursuing an MBA. I went to work for OfficeMax's print division holding a variety of roles from Operations Manager, District Trainer, Market Manager, Senior Account Manager and lastly, National Account Manager. My mix of operations and sales experience allows me to more accurately service customers. I am able to pull from my experience with both mid-size to nationally recognized customers to develop custom solutions to meet any customer's needs. Because print programs are very rarely defined in organizations, I use my expertise to help consult with customers and develop a tailored program to meet their goals.
Q: How did you get into the industry?
A: I was looking for a job on campus so I could easily work while pursuing my college degree. When I discovered the opening in the copy shop I thought it was perfect because I am a crafty and mechanically inclined person. Learning the ins and outs of copiers was easy. Using those skills to create products for customers was fun and exciting.
Q: What are you most excited about in your position?
A: I am most excited to build a print services program that will rival some of the largest competitors in the industry. I want to work in collaboration with the Executive Team to position IQ to win business in both mid and large sized companies. We can do it!
Q: What do you think makes IQ different?
A: The owners of IQ have true passion to succeed. They hire talented people and put them in positions that utilize their strengths. I am happy to be part of this dynamic team.
Q: What do you think about the WISE principles?
A: I believe the WISE principles mirror my customer service philosophy exactly and I am thrilled to work with a company that shares that vision. Service is a key differentiator, especially in the print realm. At IQ we acknowledge that a company's brand is at stake each time it is reproduced. We understand the importance of branding standards and quality control and will go above and beyond to make sure each project is done right and delivered on time.
Q: Why do you think people should work at IQ?
A: IQ is led by a pair of visionaries that understand what it takes to not only serve their customers but their employees as well. Team members are given the autonomy to do what it takes to do their job and customer satisfaction is at the forefront of all decisions. I am happy to go to work each day because I enjoy who I work with. We work hard but have fun doing it!
Q: What is one fun fact about you?
A: I love to travel and have visited Mexico, Canada, England and Egypt.
---